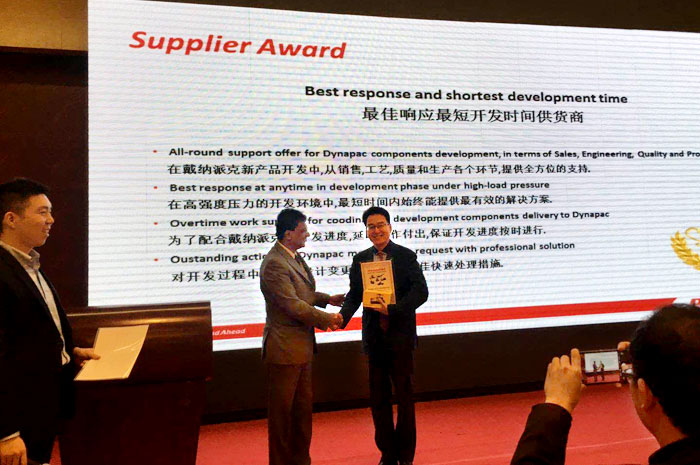 In tight competition with almost 200 suppliers, Rimaster Ningbo has been awarded Dynapac's Best Response and Shortest Development Time Award 2017.
Each year, leading compaction, paving and milling expert Dynapac appoints six suppliers among hundreds. Rimaster Ningbo was chosen for Best Response and Shortest Development Time, notedly after three years of cooperation.
"Rimaster's relationship with Dynapac goes way back, and our group has also had the benefits of cooperating with other strong brands of the Fayat Group. At Rimaster Ningbo, we started off our relationship with Dynapac in 2014, and to us this award is an important proof that we have met the customer's – and our own – high expectations", says Jonas Yong Shen, general manager of Rimaster Ningbo.
"We've put together a dedicated group of engineers and production specialists, interacting with Dynapac in every phase of the development process. By offering onsite-support we have been able to give quick response, which obviously has been very appreciated. Of course, this award is an important momentum in our quest to continuously improve our delivery."